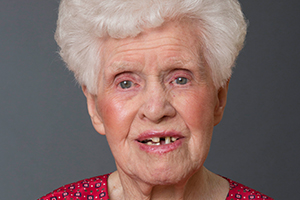 Sister Timothy Marie Hogan, beloved Sister of Charity, Halifax for 82 years, entered peacefully into eternal life on August 28, 2022 at the age of 100. She was the devoted daughter of the late Timothy and Katherine Mary (Barrington) Hogan. She was predeceased by her sister Katherine and her husband, William, her brothers, Joseph Hogan and William Hogan and Mary Hogan and Teresa Hogan. She was also predeceased by her nephews Thomas Hogan and Joseph Hogan. She leaves her brother, Thomas, and her sisters-in-law, Elizabeth Hogan and Barbara Hogan as well as her devoted nieces and nephews Maureen Hogan and Andrew Riebs, Ann Hogan, William Jr. and Rosita Edwards, Katherine Capano, Ann Edwards, Colleen and James Mazzola, Timothy and Donna Hogan, Shelagh and Scott Ferrazzani and Patricia Hogan.
Sister Timothy Marie entered the Sisters of Charity, Halifax in 1940 and was missioned in 1943 to Our Lady Help of Christians School in Brooklyn, NY where she taught elementary grades for six years. She spent the next sixteen years of ministry in various school in Nova Scotia, Canada, returning to Saint Patrick School, Lawrence, MA in 1965. Sister Timothy spent the twenty-three years teaching at Saint Patrick School. She took an assignment at Most Precious Blood School for the next three years, then serving as volunteer substitute teacher at Saint Patrick's until formally retiring in 1998. Timothy moved Marillac Residence, Wellesley, MA in 2006. Throughout her ministry in education, she taught religious education classes in the parishes in which she served as moderating the parish sodality in Dartmouth NS.
Mass of Christian Burial will be celebrated on Friday, September 2, 2022 at 11:00 AM in Saint John the Evangelist Church, Wellesley, MA with a wake beginning at 10:00 AM at the church. Interment will take place on Tuesday, September 6, 2022 at 11:00 AM at St. Patrick Cemetery, Lowell, MA. In lieu of flowers, donations in memory of Sister Timothy Marie Hogan, SC may be directed Sisters of Charity, 125 Oakland Street, Wellesley, MA or the National Alliance for the Mentally Ill of Massachusetts or Lazarus House Ministries of Lawrence, MA.