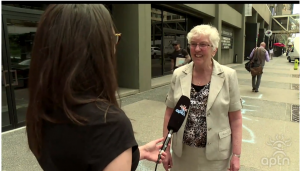 S. Cecilia Hudec submitted a shareholder's resolution on behalf of the Sisters of Charity – Halifax to Enbridge, Inc. The resolution was presented to the shareholders at Enbridge's annual meeting last Thursday, May 12. The tenets of the proposal would require Enbridge to disclose how it plans to address social and environmental risks — including infringement of indigenous rights — when it buys new assets.
It received support from over 30% of the shareholders. While the resolution was defeated, the amount of support it received made Enbridge executives take notice.  Enbridge president and CEO Al Monaco told the annual general meeting that the company will push ahead with broader disclosure in its 2017 sustainability report.
S. Cecilia Hudec was interviewed on APTN which can be found here: http://aptnnews.ca/newscasts/. May 12, 2017 video (the story starts at 8 mins 48 secs).
The meeting was also covered by the National Observer: