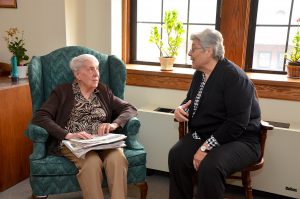 S. Ann Woodford has had many titles.  She's a certified physical education teacher in the State of New York, a licensed social worker, youth minister, executive director and a former Girl Scouts leader/trainer.  These diverse life experiences coupled with her confidence, level of empathy and zest for life, serve her well in her current role working with retired Sisters at Mount Saint Vincent Convent in Riverdale, NY.
S. Ann, a Sister of Charity-Halifax, is the Administrator of Mount Saint Vincent Convent, the retirement centre for the Sisters of Charity-New York.  "The best part of my ministry is the connection between the two Congregations," she says. Both Congregations are members of the Sisters of Charity Federation, joining together in the mission of Charity and responding to the needs of people living in poverty and on the margins.
Some of the Sisters who live at the Convent taught side-by-side with Halifax  Charities, so S. Ann can talk about Sisters in her own Congregation and the NY Sisters will know them as either students or colleagues.
Having conversations with Sisters is an important part of S. Ann's job. Her daily commute is an hour or more each way but she makes sure she's at Mount Saint Vincent Convent by 7:30 am.  "I'm there for breakfast," she says. "I walk around to the tables with my large cup of tea and chat with the Sisters." It's this consistent presence and these table conversations that allow S. Ann to connect with the retired Sisters and inspire them to remain present, active and creative.
S. Ann calls the administrative tasks "the boring part" of her job, but she has many organizational skills that allow her to do these tasks well. It's clear to see that she favours the opportunities when she can be of service to the Sisters who call the Convent home. "I plan their events and outings. We have arts and crafts sessions, movies, bingo and happy hour every week."  S. Ann believes it's important that the Sisters feel like they are involved in the world so she makes sure there's a monthly theme. "We celebrate everything, because I think that's an important part of maintaining an active mindset."  She also runs a monthly house meeting, and anything that needs to get done falls on her desk.  "There are days when I'm pushing wheelchairs or driving Sisters to doctors' appointments," she says. "Basically, I make sure the building is still standing at the end of the day and provide opportunities for Sisters to be happy."
Anne Hennelly, Assistant Administrator, enjoys S. Ann's sense of humour and enthusiasm. "She has boundless energy," Anne says.  "S. Ann projects to the future and thinks of ideas that will re-energize us. I like that she injects that kind of energy into the job."
S. Ann has been a Sister of Charity for 40 years. "I taught high school before I entered. After I was professed, I taught for two more years in a parish grammar school, coached the basketball team, the softball team. I did all sorts of things in the parish," she says. She was interested in working with the poor so she left teaching to  work as a youth minister in an African American parish in South East Queens. She also became a live-in volunteer at Women Helping Women, a safe home for women in need.  She then worked at St. Nicholas of Tolentine as the Youth Minister for six years. "When you're working with high school and early college kids, you know what's going on in their family life," says S. Ann. "That's when I started to study social work."
She earned a Master's degree in social work from Fordham University.  She worked in foster care as a case worker, supervisor and program co-ordinator, and at a women's prison where she'd bring children to visit their mothers. She was asked to be the director at a halfway house called Amethyst House, where she worked for almost 10 years. She's currently Vice-President of the Amethyst House board.
S. Ann was then asked to move to Halifax, NS as a retirement residence Community Leader and to help with the transition from Mount Saint Vincent Motherhouse to Caritas Residence.  And that led to her current position with the NY Sisters' retirement residence.  "My change of careers wasn't anything that I thought long and hard about or planned for," she says. "People asked me and I said yes."
It's that kind of can-do energy that lights up S. Ann and those around her, as she takes on each opportunity that comes her way.