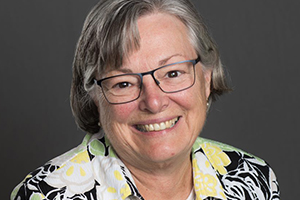 Butler, Sister Joan Josephine (John Anne) sc, died at Caritas Residence, Halifax, on August 12, 2022 at the age of 77. Born in Glace Bay, NS she was a daughter of the late John Agapitus and Anne Isabel (Strang) Butler. She entered the Sisters of Charity-Halifax in 1963 and made her First Profession in 1966.
Sister Joan is an alumna of Mount Saint Vincent University. She received both her BA – Cum Laude, and her B.Ed., majoring in Mathematics. She later continued her studies, attending Queen's University in Kingston and receiving a diploma from the Integration for Ministry program at Regis College in Toronto. Sister Joan began her career teaching at Mount Saint Vincent Academy in Halifax. From there her teaching ministry brought her to Bridgewater NS, then across Canada to British Columbia and the Yukon Territory, before returning east to Ontario and then New York. She spoke fondly of her years in the classroom and would share memorable stories of living in the Yukon. Throughout her years teaching, Sister Joan was active in parish ministry, working with families in the communities where she was missioned.
Sister Joan was very close to her family and spoke with pride of her nieces and nephews. She was very attuned to the needs of others and would take the initiative to quietly reach out and help Sisters in her communities. Sister Joan was compassionate and caring and many would go to her for trusted advice. She was loved and respected by many. After thirty-four years she retired from teaching. The Sisters recognized her gift as a leader and in 2002 she was elected to the Congregational Leadership Team as Congregational Treasurer, a position she held for twelve years through two consecutive terms. These were very challenging times for the Sisters of Charity that required an understanding of the future needs of the congregation. She had both the compassion to care for individual Sister's needs and the wisdom to help meet the needs of the congregation.
At the completion of her two terms in leadership, she accepted a new ministry as Administrative Assistant with the Sisters at Caritas Residence. This role gave her the opportunity to continue to connect with many Sisters who moved to Caritas after the closing of the Motherhouse.
In 2020 she was once again elected to the Congregational Leadership Team for a third term to help lead the development of the long term plan of the Sisters of Charity-Halifax. Her family and the entire SC Congregation was heartbroken to learn of Sister Joan's illness. Sister Joan's contribution to a life of teaching, pastoral ministry and congregational leadership left a positive and memorable impact on many lives. She was loved and will be missed by many.
In addition to her parents, Sister Joan is predeceased by her brothers John and Gerard (Jerry) and her sister Shannon Parsons. She is survived by her brother Stephen and sisters Susan Nearing, Marie Bigley, Helen Butler, and Rita MacLean as well as many nieces and nephews.
A Gathering for Prayer and Visitation will be held at JA Snow Funeral Home, Lacewood Drive at 2pm on Friday, August 19th. Mass of Christian Burial will be celebrated on Saturday, August 20th at 1pm at Saint Agnes Church, Mumford Road. Burial will follow in Gate of Heaven Cemetery, Lower Sackville, NS. In lieu of flowers, donations may be made to the Sisters of Charity Ministry Fund.