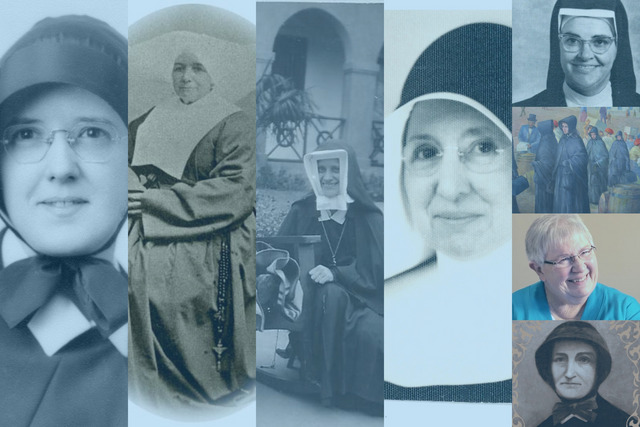 Charity Speaks Launch

By Mary Flynn, Congregational Archivist
After three years of behind the scenes work, Charity Speaks, a collaborative online exhibit created by the archivists of the Sisters of Charity Federation, was launched in August 2021. The oral histories reflect the diverse ministries of Sisters and Daughters of Charity in education, health care, social services in pre and post-Vatican II religious life. You can browse the oral histories by community or themes. 
Charity Speaks started in 2018 with a proposal by Casey Bowser, archivist for the Sisters of Charity of Seton Hill and grew from there. During the first lockdown of the pandemic in spring 2020, I started to transcribe oral histories, a tedious but necessary job to make the recordings more accessible. Currently, there are more than 60 oral histories from the Federation archives, including two from the Sisters of Charity – Halifax Congregational Archives.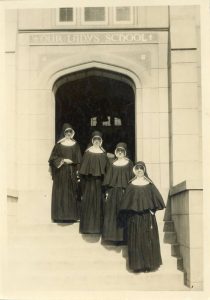 One recording was conducted in 1981 by Sister David Marie Campbell, who interviewed the 93 year old "Senior Sister" Maria Clare Kehoe at Mount Saint Vincent Motherhouse in Halifax. To listen to the oral history, click on the number 2 on the right hand side of the webpage. To read the transcript, click on the number 3. Sister Maria Clare, a teacher whose career spanned nearly five decades and two provinces, shared some of her experiences and wisdom with the interviewer. When Sister David Marie points out that Sister Maria Clare is elderly – nearly 94! – she responds, "Doesn't matter, dear. Doesn't matter. It's not the age at all. It's how you live. It's just that if you want to live old, you're going to live old. If you want to be young, you've got to live young. That's what I'm living. Young." Sister Maria Clare died on May 1, 1986, just 8 days shy of her 99th birthday.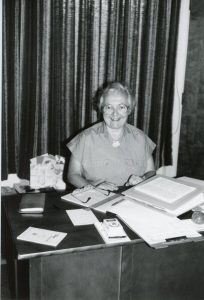 The second oral history from our archives is of Sister Caroleen Marie Browne at Mount Saint Vincent Wellesley in Massachusetts, conducted by retired Mount Saint Vincent University history professor Sister Theresa Corcoran. In the interview, Sister Caroleen Marie shares her memories starting with her entrance to the community in 1941. At her favourite mission, Seton Hall in Patchogue, New York, Sister Caroleen Marie received the wisdom of Sister Peter Claver McCarthy, who "looked for the good in every single youngster she taught." Sister Caroleen Marie died two years after the interview, at the age of 84.
The Charity Speaks project will continue to be updated as more oral histories and transcriptions are made available.
Charity Speaks · Sisters of Charity Federation Archives (scfederationarchives.org)