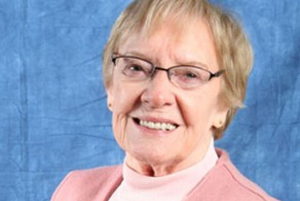 Young, Sister Cecilia Margaret, 96, died on September 2, 2018, at Drummond Hall, Parkland Retirement Living.  She was a much loved and talented Sister of Charity–Halifax. She was a daughter of the late Mary and Wilfred Young. Sister Margaret entered the Sisters of Charity–Halifax on September 8, 1944 and made her final profession on April 6, 1947. S. Margaret studied music: Mount Saint Vincent College (B. Music '44), the University of Toronto (ARCT '57), and Boston University (M. Music '63). She later studied at Mount Allison University, Eastman School of Music (Rochester, NY), University of Michigan and University of Alberta.
Sister Margaret's life was all about enhancing the lives of others through music education. An accomplished artist in piano and organ, Sister taught music at MSV College as well as teaching private piano and organ students.  She was a professor of Fine Arts, Education and Early Childhood Education at MSVU. Sister also taught at Shannon Park, Caledonia, Prince Andrew, Westmount Elementary, MSV Academy and at Mount Saint Agnes Academy in Bermuda. Sister Margaret served as choir director and organist in many Halifax parishes as well as Mount Saint Vincent Motherhouse, Mount Saint Vincent University and most recently at the Veteran's Hospital. Sister was awarded the MSVU Jubilee Distinguished Alumna Award and her name is placed on the MSVU Women's Wall of Honour. Sister also found great joy in her work with a group of Associates of the Sisters of Charity.
Sister Margaret will be missed by her numerous former students, friends, colleagues, SC Associates and her religious sisters, especially Sister Ann Kielley. Margaret lived a long and active life, outliving all of her immediate family members including her sister who died as an infant. She is survived by many cousins. Special thanks to the staff of Drummond Hall for their excellent care of Sister Margaret. Visitation will take place on Wednesday, September 5, 2018 at Caritas Residence from 3 p.m. until the prayer service at 7 p.m. A Mass of Christian Burial will be celebrated at the Immaculate Conception Chapel of Caritas Residence on Thursday, September 6, 2018 at 10 a.m. Interment will be held at Mount Olivet Cemetery in Halifax, NS. In lieu of flowers, donations may be made to the Sisters of Charity-Halifax Ministry Fund.